Get ready to transform your day with play!
PDF Breakfast Invitation Cards Set 1
The listing is for the PDF original set of Breakfast Invitation activity cards.
What is a Breakfast Invitation?
Breakfast Invitations are simple games that inspire creativity and independent play throughout the day.
Mornings were not my favorite, and I felt overwhelmed by cranky kids watching morning television. TV seemed to zap their imagination for anything that followed. The truth is, I just wanted to wake up being able to drink my tea HOT and have children that are able to use their imagination and play.
So I dug deep into my teacher's brain and found a solution with Breakfast Invitations.
As caregivers, we can set up simple, yet effective, invitations that develop social, physical, cognitive, and language development in all of these categories of play.
With Breakfast Invitations, we had finally made a transformation and encourage more play at home! 
Kids begin the day with the morning activity, as I prep breakfast and drink my tea, HOT! – yep, no more reheating. The kids are learning through play as I wake up. We all begin our day with intention and connection.
This transformation is achievable for you as well.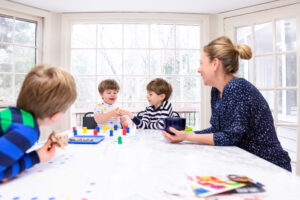 Breakfast Invitations are simple to set up and will use a lot of items you may already own.
Develop a predictable routine.
Encourage your child to engage in hands-on learning.
Prepare your children for Kindergarten, life skills, and learning through play.
Allow you to get a head start on making breakfast and drinking your coffee hot with minimal requests.
What age are Breakfast Invitations intended for?
The activities are designed for ages 2.5-5 years old. The activities expose children to thinking strategies and learning through play that they can expand upon over the years.
I created each idea from my experience in education and background with a Masters in Teaching Reading.  The activities listed in this set are open-ended and have the flexibility to meet your child's needs.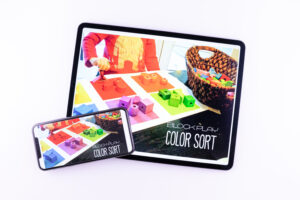 How will you know how to begin Breakfast Invitations in your home?
You've got this. Tomorrow, you begin the new routine.
Move TV to later in the day, and help your children see that this is the new routine. Kids adjust better than we think they will. Like all new things, it may happen immediately or take a few days. Stick with it, and you will notice an incredible transformation!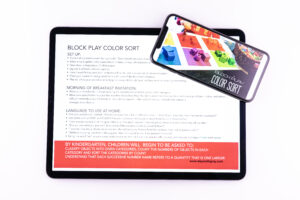 How is each activity card designed?
Each activity card has a clear image on the front of the card.
The back of the card includes:
Set-Up
Morning of Breakfast Invitation
Language to use at home
Behind the scenes – which skills we are working on
This is a digital product that is non-refundable.