We know you don't have time to read through endless books on child development. 
That's why we created WONDER, an online course designed for parents.  Our goal is simple – give you the essentials you need to help your children succeed in school and beyond – all without taking long-term or expensive classes!
We believe you should have a teacher who can hold your hand and walk you through your child's learning journey.  Imagine the 'parent-teacher conference' of your dreams — that happens at your house over coffee (or wine! hey!) and makes you feel completely set up for success — vs pointing out where you or your child is falling short.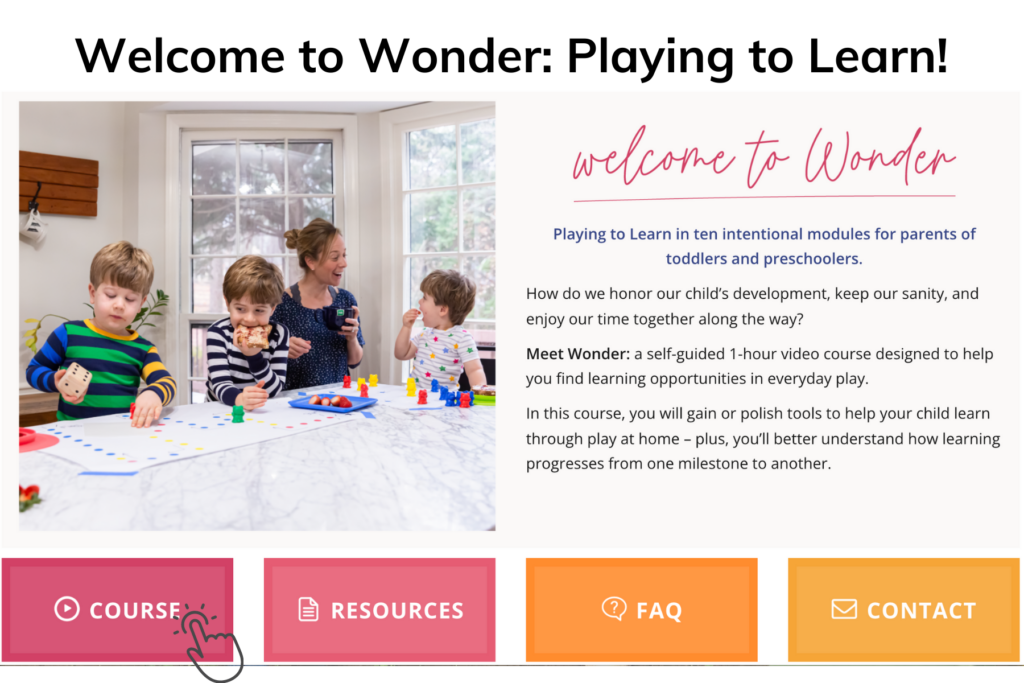 In the WONDER course, you will gain confidence knowing that you CAN:
Master the 6 phrases that you need to use in everyday conversations with your child – whether you are picking them up from pre-school or sitting down with an activity card

Know how to meet your child where they are

Learn ways to get your child back on track when things go 'off script'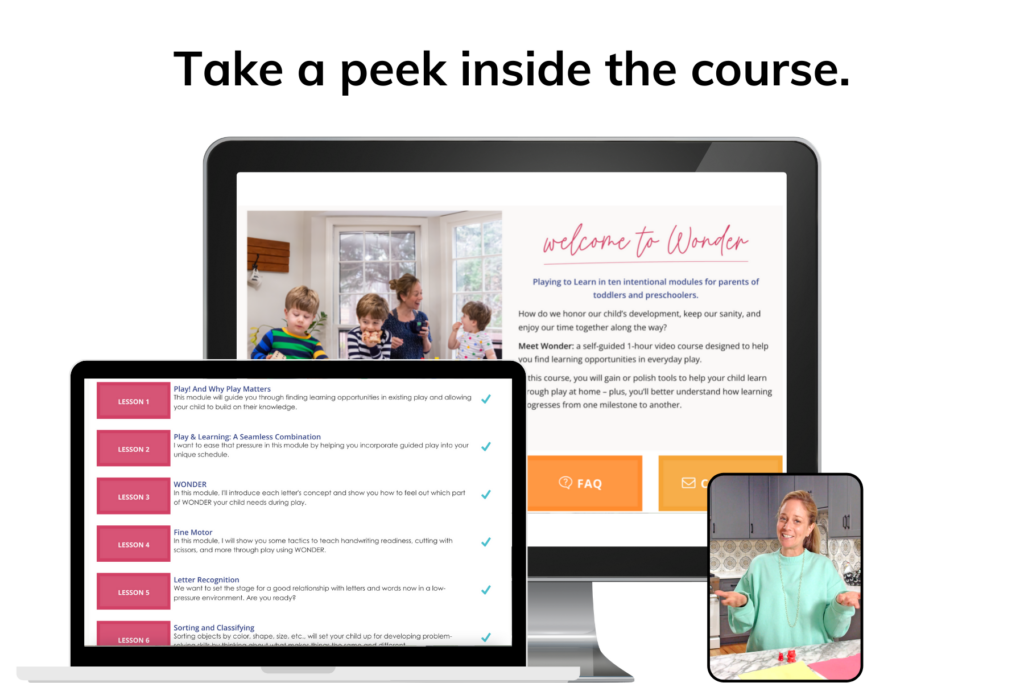 It's easy to get started!  
Get the course 

I'll virtually step into your kitchen (

or office or playroom

) and walk you through all the things you really need to know to set you and your child up for success 

Confidently facilitate your child's learning journey.
"I'm so glad I jumped in with WONDER!  We've been on prolonged lockdown here and I can't say that I've not worried…that my [child] is "behind"…The course really helped me see a) how much he's been learning, b) how to just break it down and keep things simple, and c) kids just really need time to come into their own!  Thanks for all you do!
-Sabrina L.
FAQ
How long is the video course? 
This course is a little over an hour. I honor your time and pack each module into short, doable lessons. You will leave with confidence and knowledge to extend your child's thinking in a risk-free, enjoyable way.
Who is this course for?
Wonder: Playing to Learn is for caregivers of toddlers and preschoolers.
This video course will guide you to understand better how to set up play in your home and encourage your child to explore mini-milestones through play.
Does this video course come with downloads?
It sure does! I created summaries of each module for you to store on your computer or print to hang. Each download is colorful and shares the essential information to refer back to as needed.
The downloads also have clickable images! My goal is to leave you excited and inspired to implement all you've learned! The activities put the material learned into practice.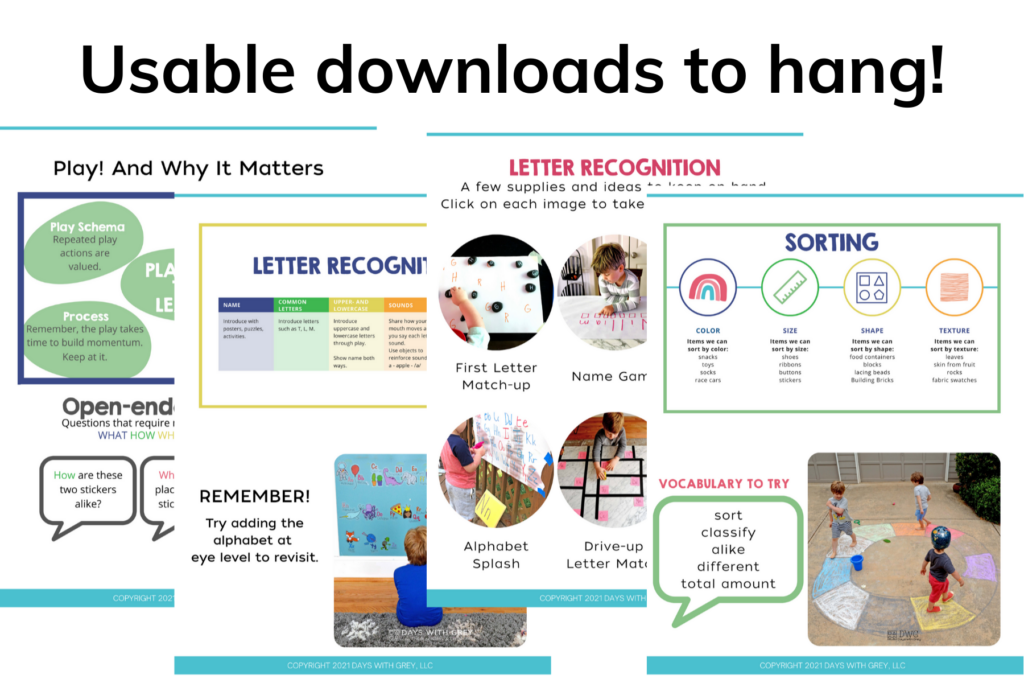 What's your background? 
Great question! I am a former teacher that taught Kindergarten, first grade, Reading, and Fourth. I also have a Master's in Teaching Reading, a passion for working with children. I love what I do!
I now stay at home with my three boys and have put everything I share into practice. No guesswork. This online course is created after 14 years of classroom experience and seven years with my children. What I share is based on lots of experience and many, many different learning styles.
I work. Is this course for me?
Certainly! In much of what I teach you in this video course, you will notice your child doing in preschool. This course will encourage the home-school connection with caregivers from all different lifestyles, ages, and stages of learning.
I don't have time for setting up activities.
Isn't this the truth? As a caregiver, we are wearing a lot of hats. Many families do not have time to prep and set up complicated activities.
You will still leave this course feeling empowered.
Wonder: Playing to Learn shares practical information that can be used as an activity setup or to put snacks into a bowl. This course is created with the busy parent in mind with useful, tangible tips. 
What are the other costs?
This video course is all you need! You will notice I mention paying close attention to your child's interest and using what they love to promote learning through play. I created downloads to put what you've learned into practice, and you also have the opportunity to purchase activity cards to keep at home. You have the control and flexibility to make this your own!