Let's bundle it all together to save you money and maximize all you've learned.
Here's what's different about upgrading your purchase.
Wonder: Playing to Learn BUNDLE Includes:
Breakfast invitation PDF Start-Up Guide
Activity cards set one – Physical available for the US; PDF international
Activity cards set two – Physical available for the US; PDF international

Ten powerful video lessons

Colorful downloads to summarize key details

Clickable images to put what you have learned into practice

Permission to print downloads and keep on hand

Over 25 play prompts

Conversation starters to encourage thinking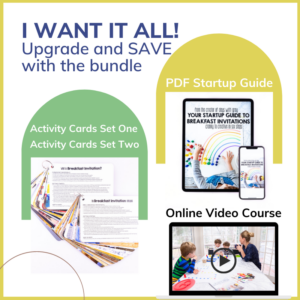 Curious how play connects with learning?
One of the most important things a parent can do is make sure thier child has fun while learning. Time for play sets the stage for future opportunities to build on prior knowledge and a growth mindset with problem-solving.
Here, you will learn how to grow your child's learning with play to honor their development. You will also learn conversation starters and tips that will help extend your child's thinking in a risk-free, enjoyable way.
Meet Wonder: a 1-hour video course designed to help you find learning opportunities in everyday play as you better understand a child's stages of progression.
Created by a teacher, learn from 10 video lessons, save the downloadable handouts, and immediately start activities to unlock your child's potential.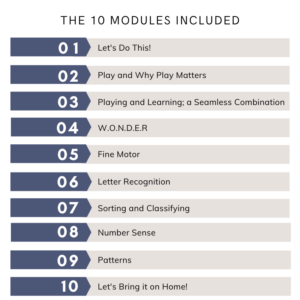 FAQ
How long is the video course?
This course is a little over an hour. I honor your time and pack each module into short, doable lessons. You will leave with confidence and knowledge to extend your child's thinking in a risk-free, enjoyable way.
Who is this course for?
Wonder: Playing to Learn is for caregivers of toddlers and preschoolers.
This video course will guide you to understand better how to set up play in your home and encourage your child to explore mini-milestones through play.
Does this video course come with downloads?
It sure does! I created summaries of each module for you to store on your computer or print to hang. Each download is colorful and shares the essential information to refer back to as needed.
The downloads also have clickable images! My goal is to leave you excited and inspired to implement all you've learned! The activities put the material learned into practice.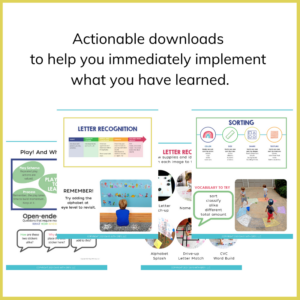 What's your background?
Great question! I am a former teacher that taught Kindergarten, first grade, Reading, and Fourth. I also have a Master's in Teaching Reading, a passion for working with children.
I now stay at home with my three boys and have put everything I share into practice. No guesswork. This online course is created after 14 years of classroom experience and seven years with my children. What I share is based on lots of experience and many, many different learning styles.
I work. Is this course for me?
Certainly! In much of what I teach you in this video course, you will notice your child doing in preschool. This course will encourage the home-school connection with caregivers from all different lifestyles, ages, and stages of learning.
I don't have time for setting up activities.
Isn't this the truth? As a caregiver, we are wearing a lot of hats. Many families do not have time to prep and set up complicated activities.
You will still leave this course feeling empowered.
Wonder: Playing to Learn shares practical information that can be used as an activity setup or to put snacks into a bowl. This course is created with the busy parent in mind with useful, tangible tips.
What are the other costs?
This video course is all you need! You will notice I mention paying close attention to your child's interest and using what they love to promote learning through play. I created downloads to put what you've learned into practice, and you also have the opportunity to purchase activity cards to keep at home. You have the control and flexibility to make this your own! With the bundle upgrade, you now have it all!